Orgonite Chakra Healing Energy Pendant
Bring Peace, Love, and Luck Into Your Life
What is Orgone Energy?
Orgonite was inspired by the research of Dr. Wilhelm Reich, an Austrian psychiatrist who studied bio-energy in the 20th century.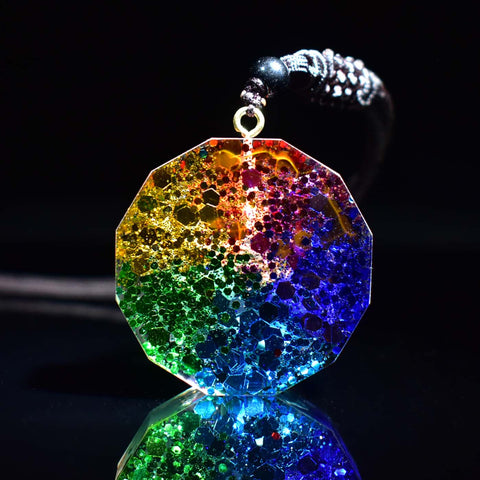 Orgonite is a substance made of resin, metals, and quartz that balances and harmonizes bio-energy, otherwise known as orgone, chi, or prana.

"Orgone is the light, universal energy that is present in everything, it's what stops decay and creates healing".
What does Orgone do?
Orgone takes dead orgone (DOR) and converts it into orgone (OR) which by
the definition is full of living energy.
What is orgone energy good for?
Orgonite is a substance which functions as a self-driven, continuously-operating, highly efficient energy transmutation device, drawing in negative life energy and transmuting it into positive energy. "Orgonite has become very popular as a spiritual healing tool, and as protection against EMFs.
* Benefits of Orgone Energy Generators *
Improvement of physical health
Peaceful Sleep
Protection From Electromagnetic Radiation
A Harmonious Field of Energy for the Home or Office
Sync's all objects back to its own Natural Vibration.
Enhances Psychic Abilities and desire for Spiritual Growth
Boosts Plant Growth.
Keeps food fresh longer.
Provides an overall Happier Mood
Each Orgone device contains the power to Transmute Harmful Electromagnetic Fields of Energy.