Everything About Laughing Buddha-Maitreya
Smiling face(Laughing ) Buddha is Maitreya Buddha.
Maitreya Buddha is distinguished from other Buddhas by a smile and a generous belly. He is the future leader of the Buddha, and he is the successor of the Buddha. He is also a Buddha who is most close to the people. As the saying goes, laugh when you open your mouth, laugh at the ridiculous people in the world; A big belly can accommodate things that are difficult to accommodate in the world. Here is Maitreya and his respect.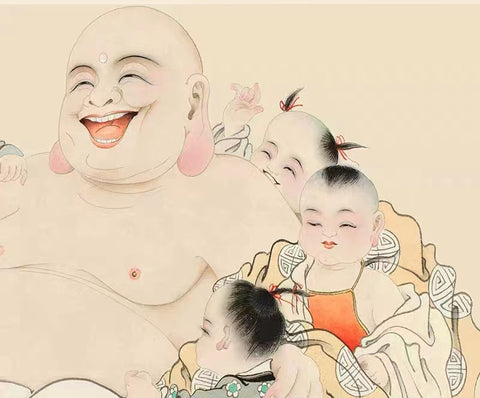 Smiling face Buddha is also known as cloth bag monk. He often carried a large cloth bag into the market with a stick, begged when he saw things, and put all the things provided by others into the cloth bag, but no one ever saw him pour out things, and the cloth bag was always empty.
If someone asks him for Dharma, he will put down the cloth bag. If the questioner doesn't understand his meaning and continues to ask again, he picks up the cloth bag and leaves without looking back. If he didn't understand what he meant, he would burst into laughter. In my opinion, the cloth bag monk is gesturing to someone to understand the Buddha Dharma and learn to put it down, because color is also empty. If he is still stubborn, he is crazy. In fact, everything in the world is the result of fate coincidence. It looks like a chance encounter, but it is inevitable.
Fate comes with care, and fate ends with it. Color and existence are temporary, and emptiness is the attribute of the universe. It is said that Maitreya Buddha is the great God sent by the emperor of heaven to manage the clothing, food, housing and transportation of the world. Therefore, many people will often pray to him and offer incense fruits from time to time. However, he has a smiling face to everyone, and I don't know whether he has really blessed people. Anyway, there are not all those who come to pray for oil afterwards. Some people say that this is the result of the seeker's good deeds and hard work afterwards. I think this may be the truth. In fact, the only function of religion is to guide people to good and forge ahead.
Maybe the smiling Buddha can't give you anything except faith, but everyone who comes to him will be in awe, grateful and devoted to good. Isn't this an important condition for doing well? Maitreya's smile is really more charming than Mona Lisa's smile! Smiling Buddha's smile is brilliant. Its brilliance is based on his magnanimity and mind. In my opinion, the smiling face Buddha is telling people in his own image to face the future and want sunshine. People should not be Chicken Intestines and small bellies.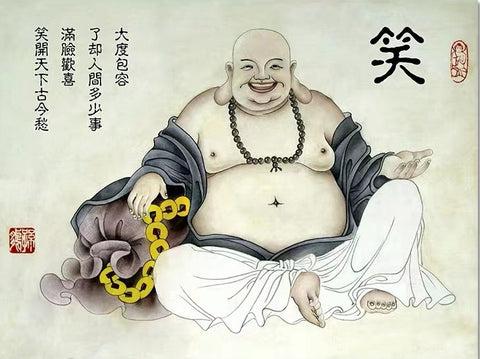 They should be frank and frank in doing things. When encountering contradictions, the prime minister should be able to prop a boat in his belly or laugh away gratitude and hatred, because even if the big cloth bag holds everything, it is empty in the end. If anything encounters a large capacity, it will no longer be a thing. If the heart is spacious, life is full of sunshine everywhere. But the world is empty and all dharmas are empty.
In fact, the smile of smiling Buddha is also empty. Maitreya's smile is the smile of all living beings, and the cloth bag monk's cloth bag is also the cloth bag in the eyes of all living beings.