Agate Healing Bracelet
POSITIVITY• BALANCE• HEALING
Who needs Agate Crystals?
You may benefit from Agate crystals if you can relate to any of the following:
You need more stability in your routine
You are attracted to intricately patterned stones
You are an avid rock collector
You need a grounding crystal in your aura
You seek work-life balance
You want to disconnect from tech and connect with Earth
ABOUT AGATE: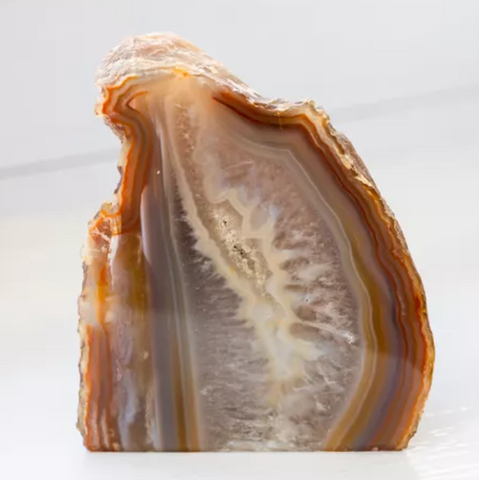 Agate has a balancing and healing energy that can be very soothing; this applies especially to the blue agate. Katrina Raphaell, the authority on healing with crystals, considers the blue lace agate the most powerful healing stone of all the blue stones.

None of the bluestones, she writes in her Crystalline Transmission book, has a more peaceful countenance than the soft presence of the blue lace agate. Considered more healing than chrysocolla, turquoise, celestite, aquamarine, and other powerful blue healers of the earth, agate is also inexpensive and easily available.
Similar energy can be attributed to other types of agate; their energies being expressed further by specific colors. For example, the fire red agate will have the same healing energy, but in a more energized manner, while the green agate will be healing and very refreshing for one's mind and body.
Agate is a stone deeply desired by many Feng Shui followers. It provides many benefits, one of which is enhancing the capabilities of the mind. Agate will clear your consciousness of all frustrations and distractions, allowing you to think clearly and enhance attentiveness. With Agate, one attains the power to think quickly on their feet and solve problems swiftly. Furthermore, with a clear mind, you will be able to rid your life of any tensions and resentment, making more room for love and happiness.

Agate heals the eyes, stomach, and uterus; cleanses the lymphatic system and the pancreas; strengthens blood vessels and heals skin disorders.

This stone can help you:
Very beneficial to one's self-esteem and self-image

Allows you to stay grounded during stressful or emotional times

Eliminate any fears you may have, and replace them with the strength to be courageous in the face of any event.